If you're this kind of person who has to have fresh flowers in your house at all times, we understand you, but switch up it's important from your standard fall bouquet on Halloween. We are going to give you some festive arrangements!
1) Not your average vase: First of all, for Halloween, forget your average vase! Turn a skull into one instead, no matter what blooms you put inside (the darker, the spookier …) it'll bring the haunts on Halloween night.
2) Garland goals: Who said that garlands are just for Christmas? Add dark colored blooms to fresh greenery and drape over your mantel, banister, or bar cart.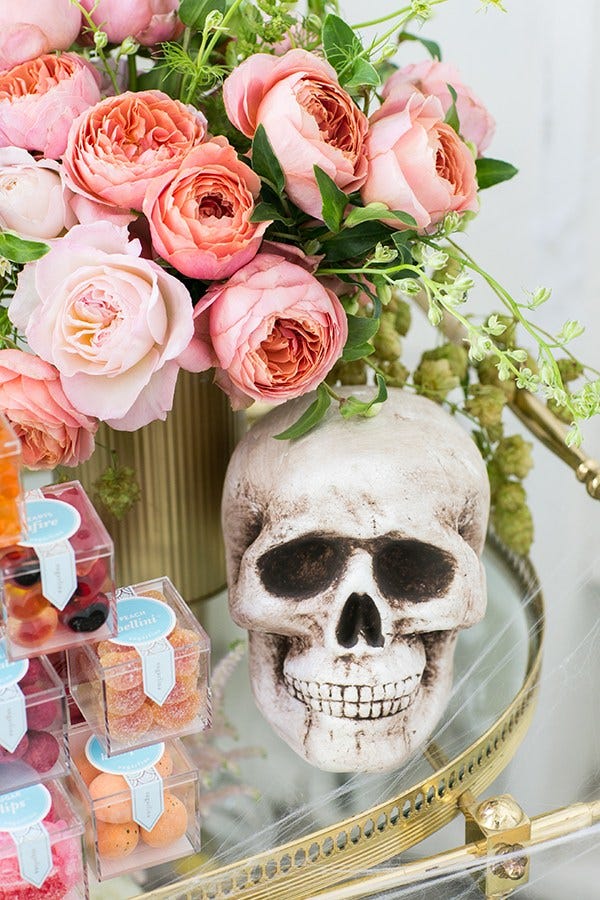 3)Pink for Halloween?If there's a skull somewhere nearby you can get away with pink, here's an example of what you can do with some pink flowers!
4) Bring some light! You don't necessary go to total orange and black on October 31st. You can for example make a floral display using orange and yellow flowers accented with pops of pink and white.
5) Elegant but still festive:Skip the spooks and make a basic fall floral (you can see some ideas of fall flower in one of our precedent articles) display more festive by setting up mini pumpkins around it.
6) Gourdeous blooms:Step it up from last year's pumpkin vase and decorate the actual gourd with sash of blooms. A drill can quickly poke holes through the rind in whatever pattern that comes in your mind.
7) Monochrome magic:An all-white color palette makes fall staples like pumpkins, baskets and mums feel insanely chic.
8) Halloween's signature color:Matching flowers to your pumpkins for a spooktacular floral display.