1) If your vision for a romantic outdoor is ruined by the tent's exposed support beams, you need to cover them up. For a lush, full looking garland, consider greenery like ivy, maidenhair, fern or boxwood. You can even add more intrigue by hanging amaranthus flower spray, clear grass terrariums and some bundles of bare branches.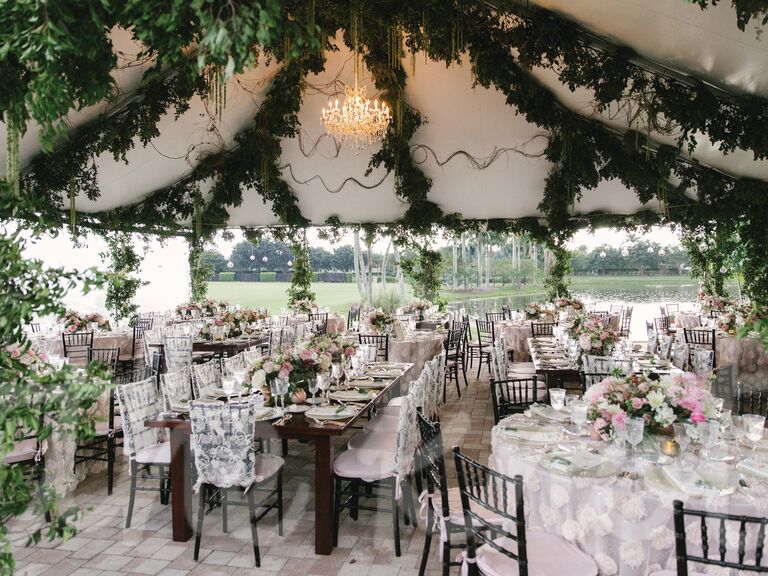 2) Floral fountain: A cascade of green and lush hydrangea imitating the water is wonderful. You can see an example just here.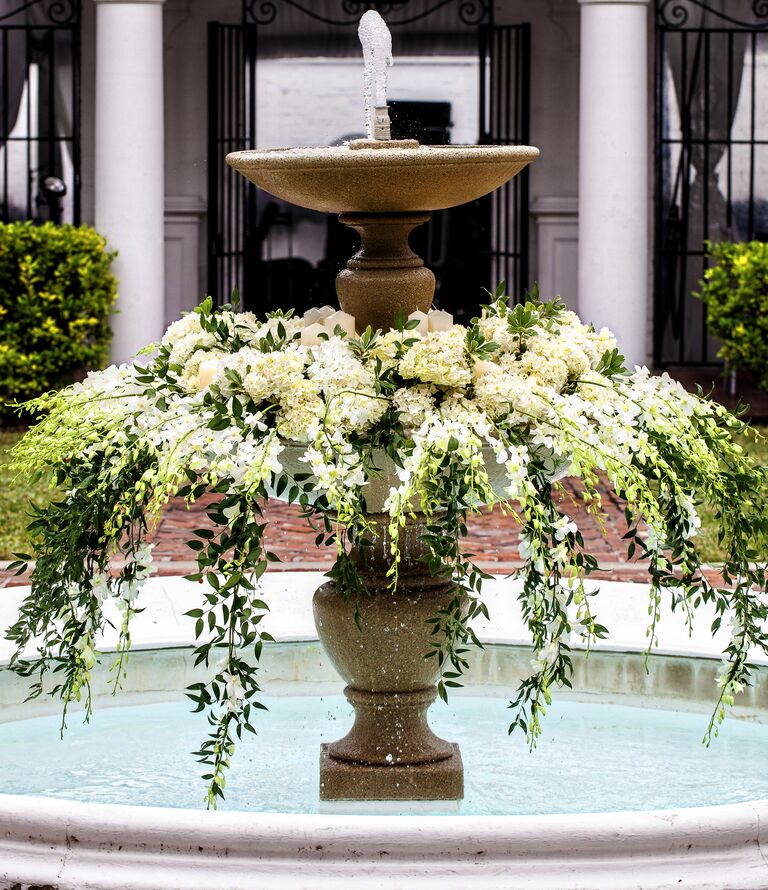 3) Flower backdrop: A floor to ceiling arrangement of greenery and color coordinated blooms set the scene for some. Pretty amazing ceremony photos. It adds an urban contrast between the exposed industrial-looking walls, the garden-chic blooms and crystal chandeliers.
4) Topiary instillations: A topiary-lined aisle with trees that look like they're straight out of Wonderland is something very different. It contrasts in an all-white neutral color scheme, that means you can play around more with the color of your florals.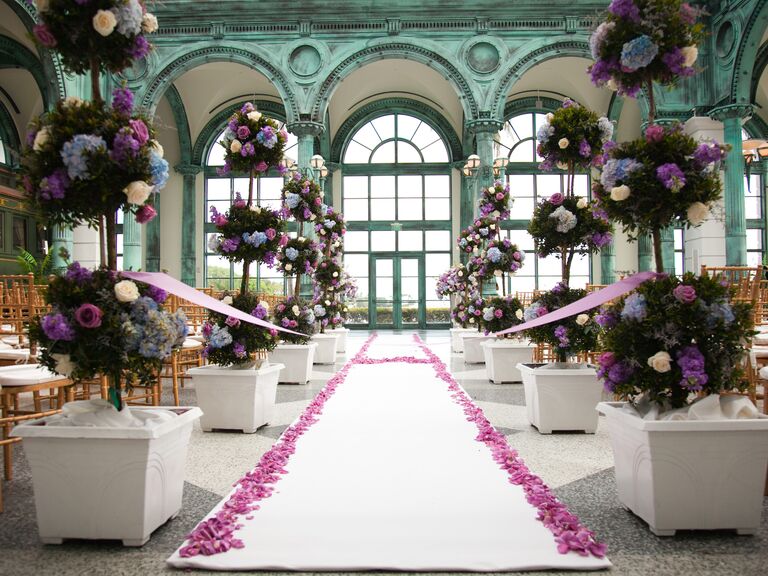 5) Hanging pomanders: It's cool to vary sizes and colors of pomanders dress up a bare tree for an outdoor ceremony. But it's important to be careful in using extra supports when you hang them, you don't want one falling down.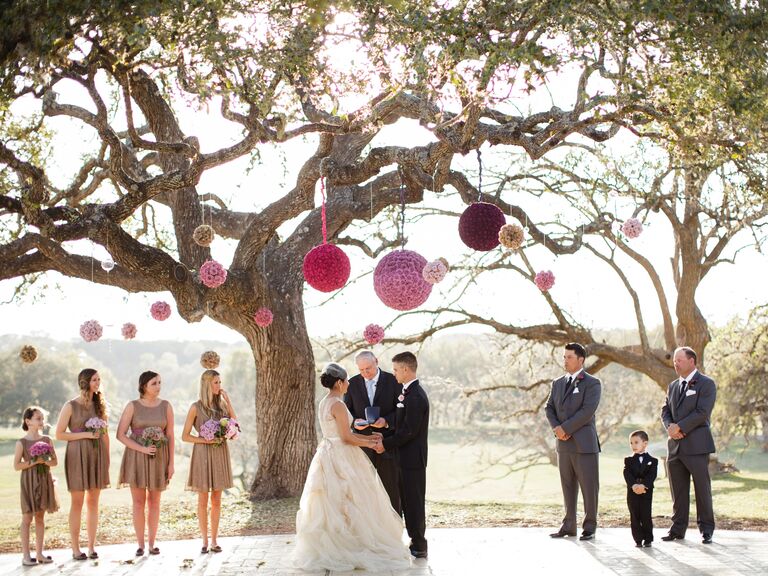 6) Staircase cake display: If your venue has a grand staircase, better to use it. Start off the reception with a cocktail hour in the foyer and transform the railings into a floral masterpiece. Vines of greenery bushels of roses, scattered petals, candles and overhead bistro lighting make for an impressive entrance.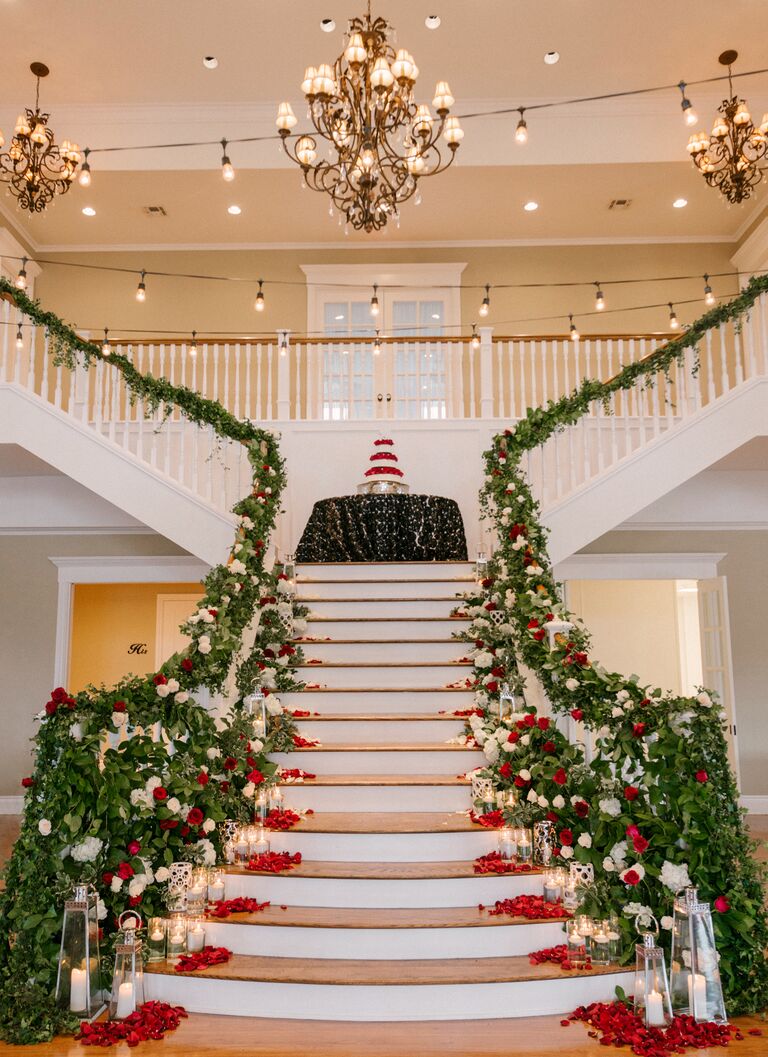 7) Fruits accent: Thanks to their soft green hue, grapes are an easy to incorporate non-floral accent that add a surprising shape to your floral arrangements. Full bushels create a cascading effect while small bundles are just enough to get noticed, but won't take away from your beautiful flowers.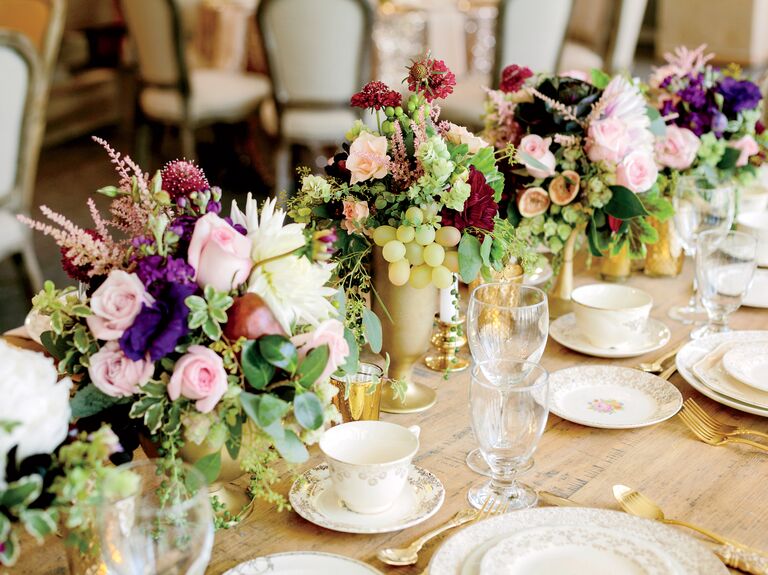 8) King protea and air plants: For a rare bouquet arrangement, this one takes is special. Protea is the main attraction in this bouquet, supplemented by an impressive air plant an full cluster of seeded eucalyptus.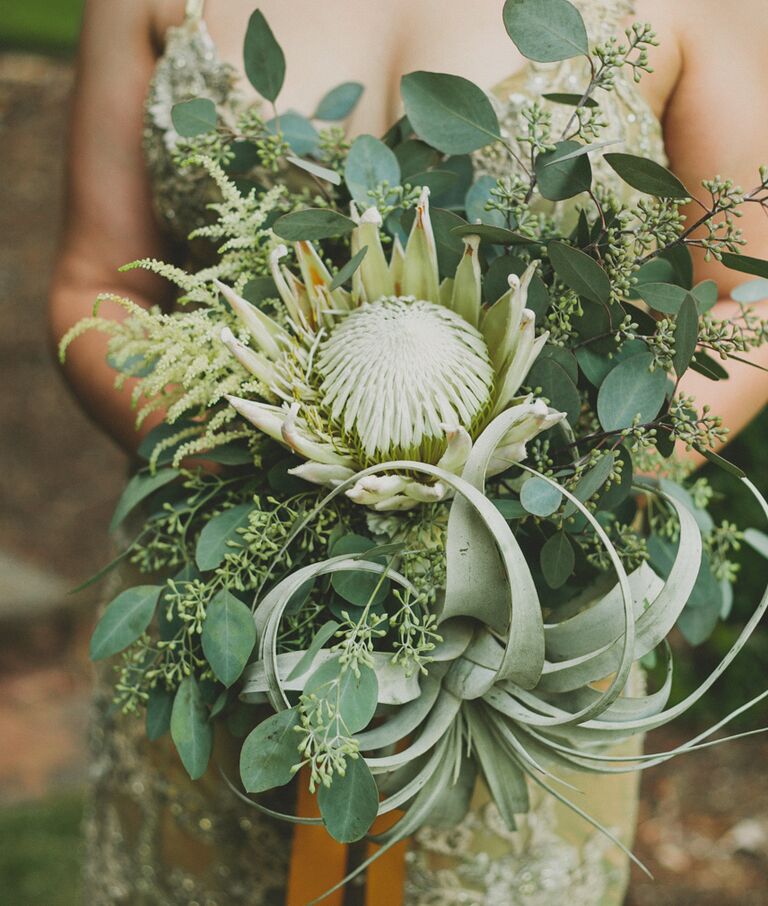 9) Woodland runner: With a stretch of moss and dome wild looking floral arrangements, you can create a striking woodland-esque tabletop. Arrange dark jewel-toned blooms in footed urns, and to complete the look, add in unique fillers like fiddlehead ferns and burgundy hypericum berries.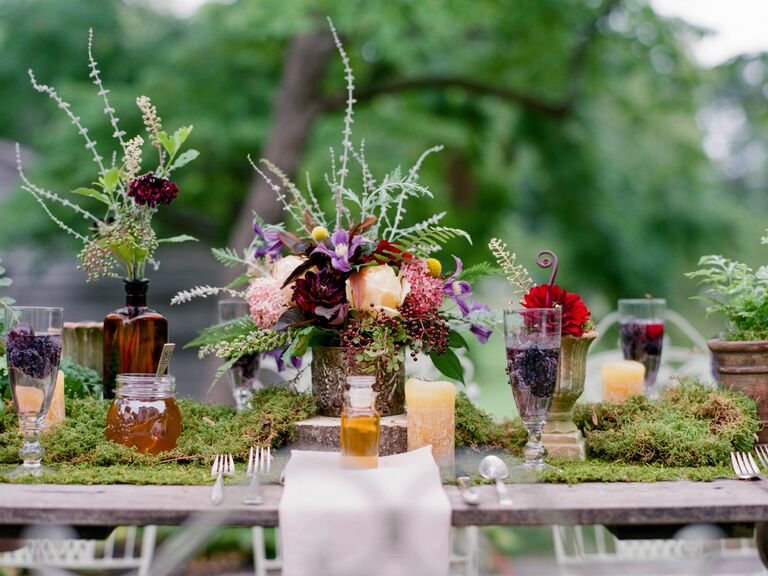 10) Lampshade centerpieces: Put a twist on your succulent centerpiece and have your florist top off a tall column vase with a lampshade made of moss. If you don't want to sacrifice floral centerpieces, you could also fill the vase with blooms or scatter small bud vases with single stemps (like roses, tulips or dahlias) for a floral touch that won't look too electic.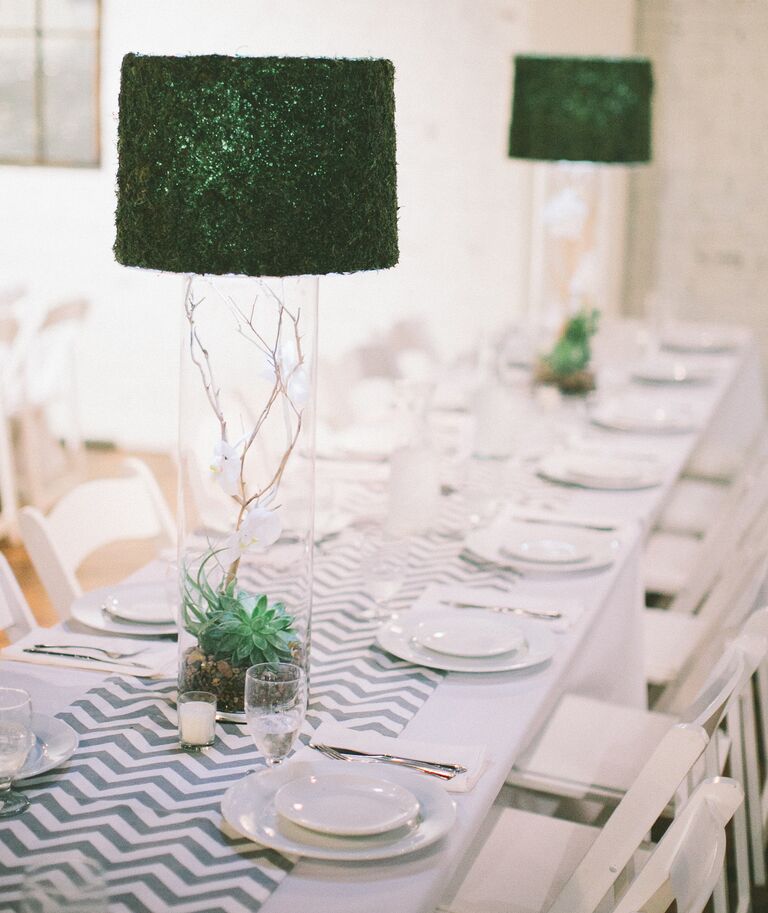 11) Floral chandeliers: Arranging some upside-down stems can transform your light fixtures into striking chandeliers. Most flower-adorned chandeliers are equipped with wreaths for extra structures (and labor costs), but this elegantly simple display of white and yellow blossoms are just as impressive.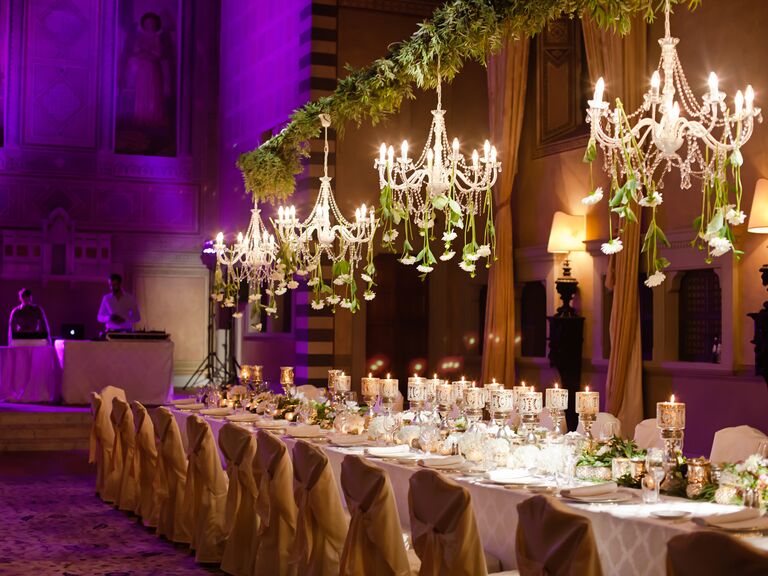 12) Floating florals: We've seen floral monograms before, but rarely on a bed of moss in luxurious water landscape, surrounded by islands of candles and flower arrangements. If your venue has a pool or pond, get creative with the décor! It's an opportunity to craft a jaw dropping aesthetic.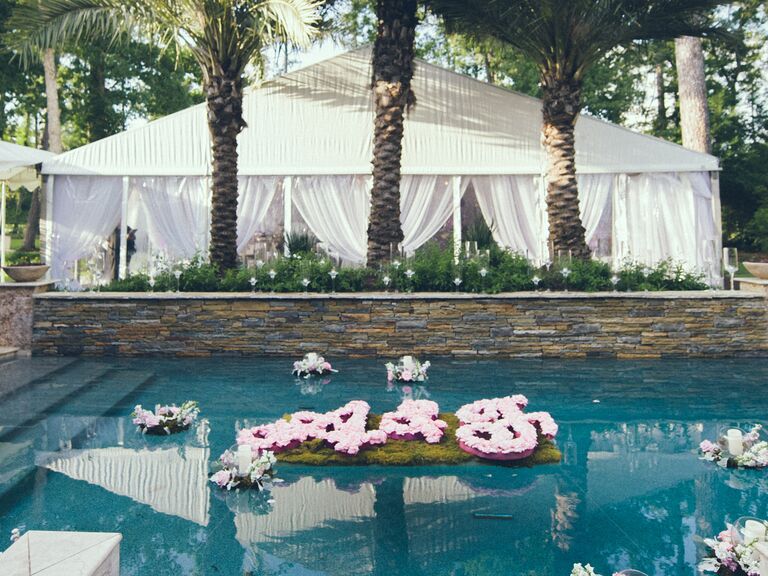 13) Inverted gardens: If you want an awe-inspiring floral instillation, but between table space and the dance floor and there is nowhere to put them, turn it upside down to suspend them from the ceiling! To evite to sacrifice any floor or tabletop space, and you can play with the location; try it over the dance floor, sweetheart table or bar area.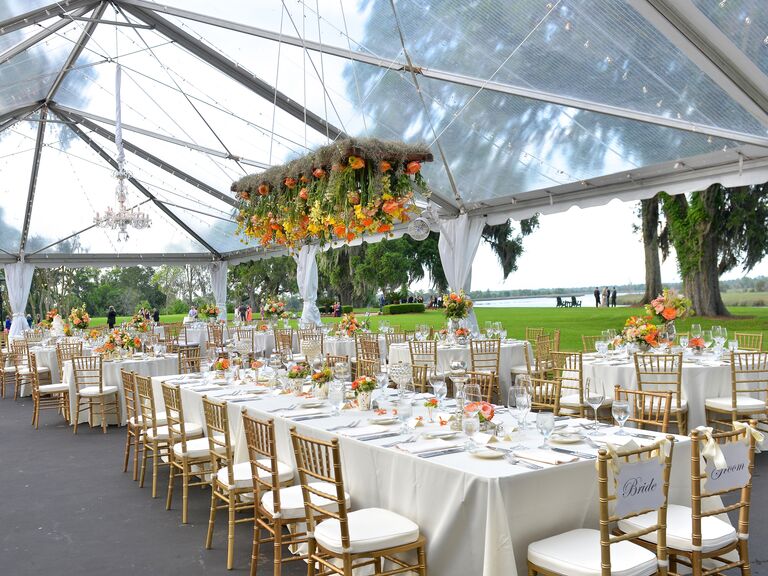 14) Hanging potted plants: If your venue has a diving wall of lattice, use it to your advantage. Potted orchids contribute some height to the structure, while exotic leafy plants, like crotons, have deep green leaves and red veins that add an intense color.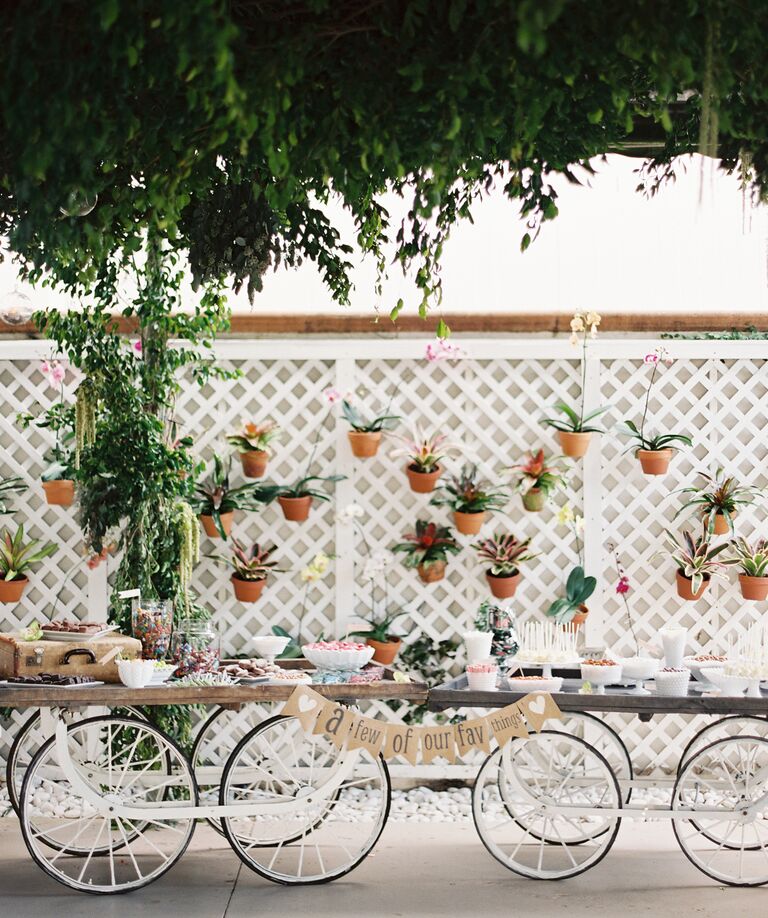 15) Ombre table runner: With a chic ombre floral runner, you can have a whole slew of colors without the arrangement looking chaotic. Accessorize the tabletop with a neutral tablecloth so there's not too much going on; a matte sequin material or beige linens both have fun textures, but aren't distracting.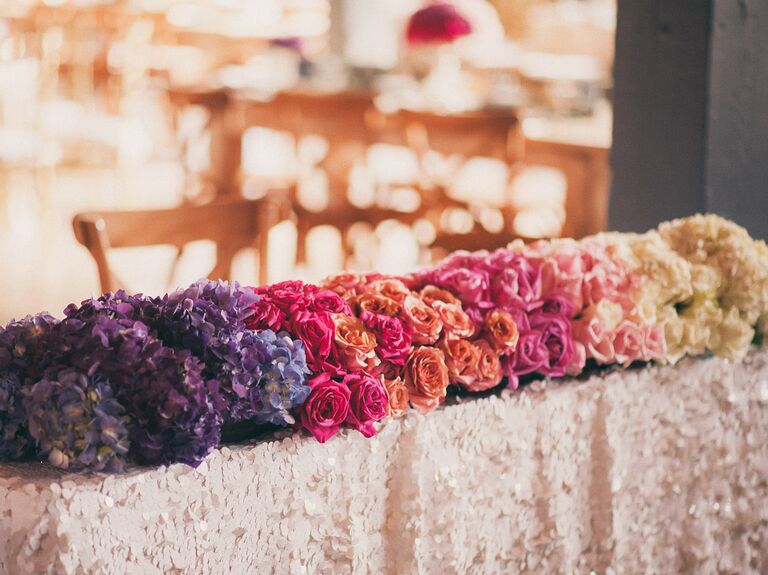 16) Switch up the traditional flower crown design and embellish the back of the headpiece rather than the front or sides.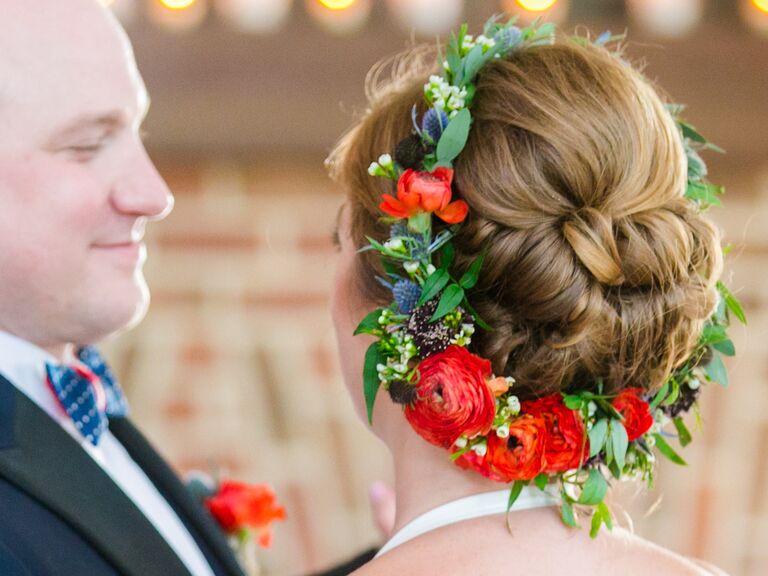 17) Indoor trees: The idea of bringing the outdoors in with more than just flowers. Tall greens trees make a ballroom feel like an intimate garden party, and you can use the branches to hang a few more pieces of décor, like miniature crystal chandeliers or string lights.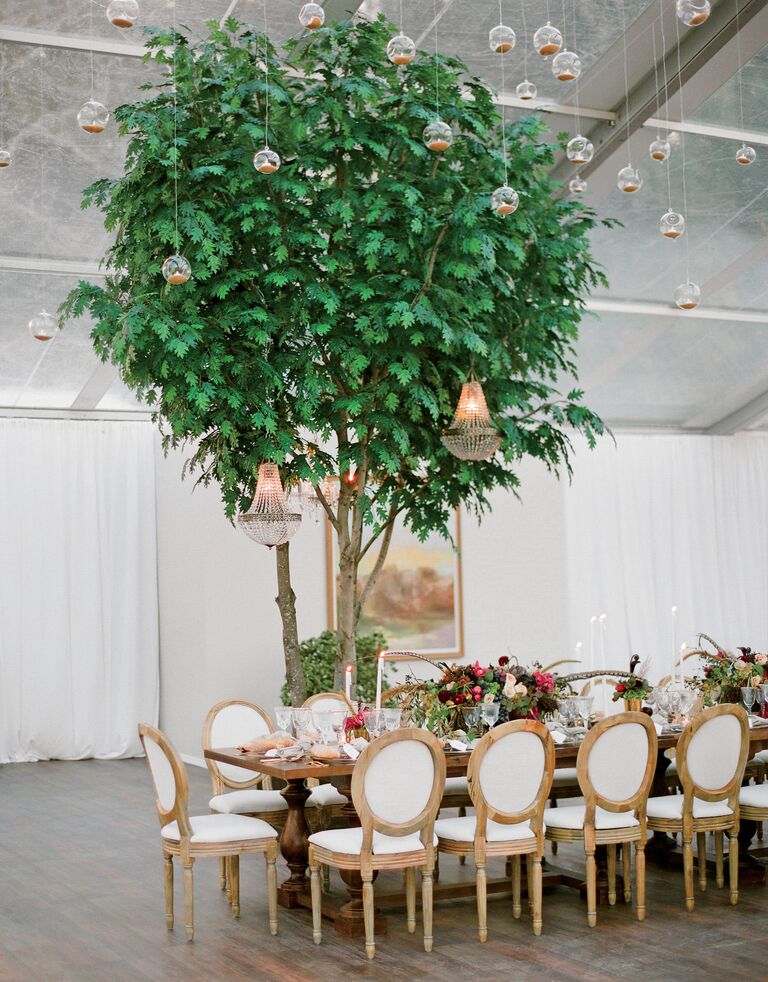 18) Some tropical centerpieces: Fiddlehead ferns, tropical orchids and red pincushion proteas come together for an island island inspired arrangement, perfect for a destination wedding or waterside celebration.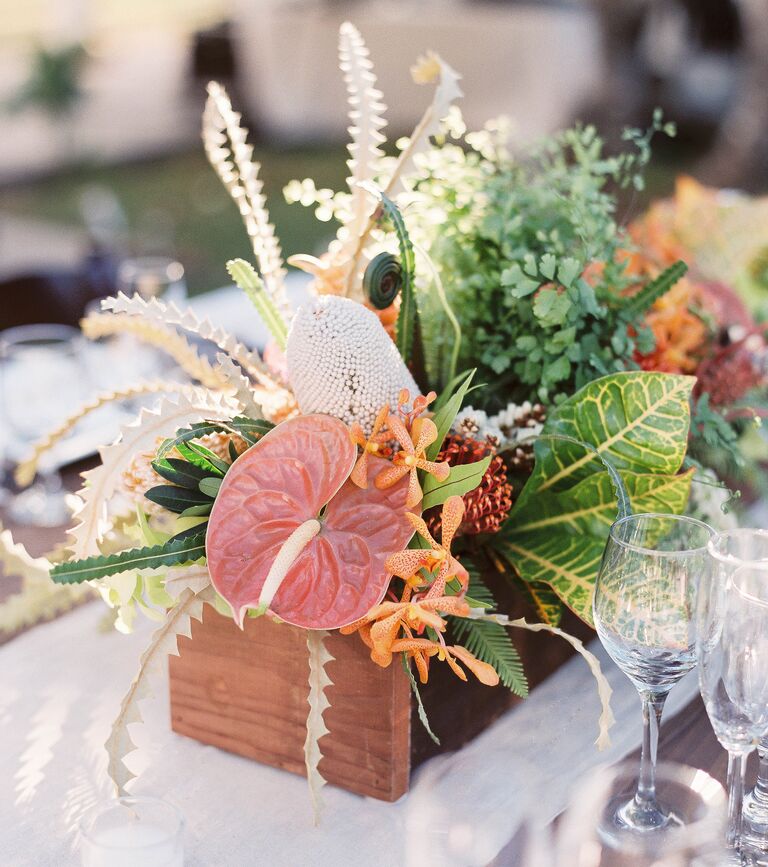 19) Taped flowers: Small, individually taped stems create one amazing backdrop. Whether it's for the ceremony, cake display r a photo background, the buds stand out beautifully against a vivid color, and the vertically-aligned stems add aesthetic appeal.