At Overseas Flower Delivery, we strive to make each and every occasion special and memorable. Wish your better half a happy anniversary, and remind yourselves how much you love and cherish each other. We also make it possible for customers to send flowers to family members and friends who are celebrating their own wedding anniversary. As our name implies, you can send flowers internationally and benefit from our international flower delivery service!
How to Order Anniversary Flowers Online
Let us take care of your floral order and make ordering flowers as easy as possible. Our steps help you get your order on the way to being processed and personally delivered by one of our excellent member florists.
1. Visit our Anniversary Flowers Selection.
There is no better way to browse a range of bouquets which are all suitable to send for an anniversary than by visiting www.overseasflowerdelivery.com, going on our Anniversary occasion from the menu, and take a look at what we have to offer. Pink and white seems to be a popular theme, mixing sweetness with elegance that is so appropriate for an anniversary occasion. While you can make a gift sweet with pink flowers, you can also transform it into an elegant surprise bouquet or arrangement with the juxtaposition of white flowers. White roses are the go-to flower in this case!
2. Continue to Checkout with your desired flowers.
When clicking on a product, the website will take you to a product page, where you will be able to choose the size of the bouquet, the delivery date and any add-on items you would like to deliver with the flowers, such as chocolates, balloons or teddy bears. After you're sure that you've made the right choice (double check that the delivery date chosen is the correct one for the florist to deliver on), you can click the 'Continue to Checkout' button to proceed to the next step.
3. Fill in the Order Details.
Information required for us to process your order include the billing and recipient information. The recipient details, hence the delivery details, are of utmost importance to us. The florist cannot guarantee your order if the recipient's address or phone number are missing or incomplete. We need the absolute correct details to avoid any trouble.
4. Continue to Secure Payment.
Voila! Fill in your credit card details or log in to your PayPal account and we can have your order processed thanks to staff members who are almost always at hand. We will let you know should we have any problems with your order, but processing should be efficient and takes no time at all. Our head office in the country of delivery will then make sure that the flowers are delivered by the nearest local florist.
Happy Anniversary Bouquet
We have found the ideal bouquet for an anniversary occasion, although of course, your choice will ultimately depend on the recipient's tastes. This is why we provide a large selection of flowers to choose from! OverseasFlowerDelivery.com recommends the Soprano Bouquet, as it provides the balance between pink flowers and white flowers perfectly, creating a harmonious floral gift that provides nothing but a wonderful atmosphere in the recipient's home.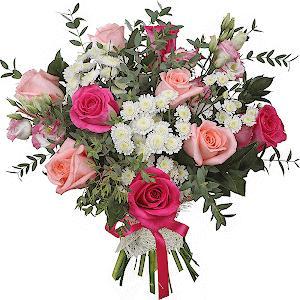 Order flowers online today with Overseas Flower Delivery. Our network of florists is here to deliver fresh flowers to almost any country in the world!