Pink lilies are amongst the most versatile of flowers, capable of being in any bouquet or arrangement and leaving the desired effect on people. A pink lily in a birthday bouquet will make someone smile, while a pink lily in a sympathy bouquet will warm the heart of the recipient and make them feel less alone.
The Stargazer Lily
The most popular type of pink lily is the Stargazer Lily, popular for its deep pink flowers with a white outline. These lovely flowers are suitable for any occasion and they are abundant in many of our floral gifts. You can browse and section of Overseas Flower Delivery and you can be sure to find stargazers in a mixed bouquet.
Whenever stargazers are used in a bouquet, it takes centre-stage. Rest assured that a stargazer lily will fight for the spotlight. It makes it a favorite flower amongst florists, though they are advised to use with caution. Some customers inform that they don't want lilies to be used in their bouquet because the recipient suffers from hay-fever. In such cases, the florist would be unable to make use of the beautiful stargazer, but they will deliver gorgeous pink flowers in its stead!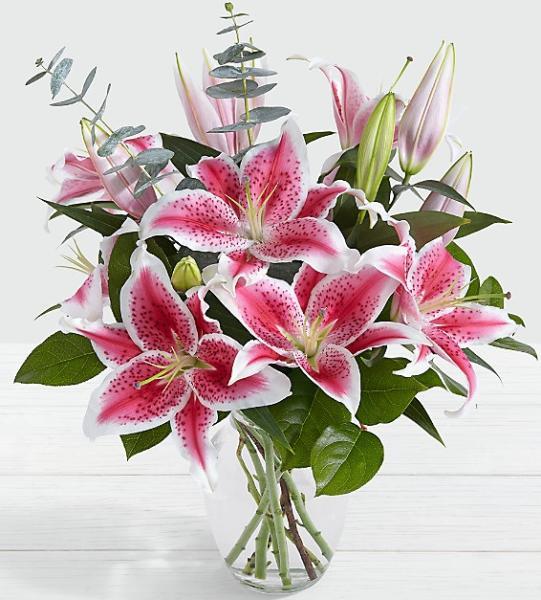 The above beautiful Stargazer lily bouquet is accentuated with delicate waxflower as well as fresh, stunning greenery. Stargazers are powerful enough on their own, let alone when designed in such a remarkable fashion by a local florist! When ordering online, also keep in mind that the vase is not included and would need to be ordered separately if you wish the recipient to receive the lilies complete with a vase!
Significance of Pink Lilies
Lilies have always had symbolic richness, dating back to ancient Greece. White lilies have gained special significance in Christian culture, which have come to symbolise purity, virtue and innocence.
Throughout the years, the pink lily has gained special meaning in its own right. It is generally associated with prosperity and abundance. You can imagine why it's used so widely in floral gifts!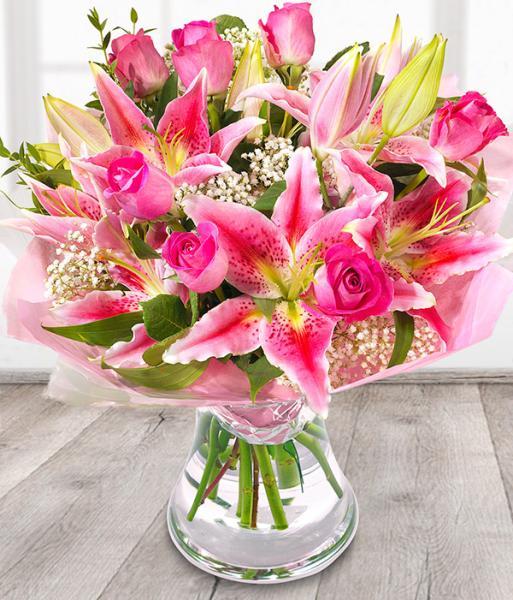 Our Pink Roses and Lilies Bouquet is the epitome of elegance and sweetness. The beauty of the pink rose is balanced by the prosperous, elegant stargazer lily. The combination of roses and lilies has always been a customer favorite, and a pink-themed rose and lily bouquet is treasured by many people around the world. To top it all, this bouquet also includes sweet-natured baby's breath (or gypsophila) as well as lovely pink wrapping.
Send a delicate lily bouquet today. Order lilies online and have them delivered internationally by a local florist in the destination country!
Overseas Flower Delivery has been providing Lilies and other fresh flowers for decades. Lilies are one of the most popular flower types around the world, and are available throughout the year.